Rollin Drones
Rollin' Drones represent a completely unique, one of a kind wedding and function band. Taking great pop songs, throwing in some bagpipes and a huge dollop of personality and energy. This fabulous band is busy performing all over Scotland and increasingly, the rest of the UK.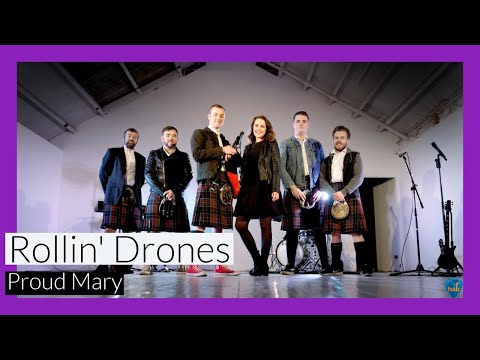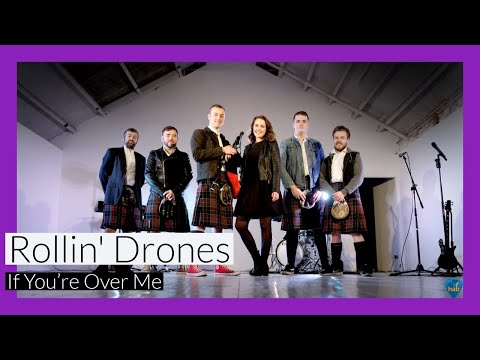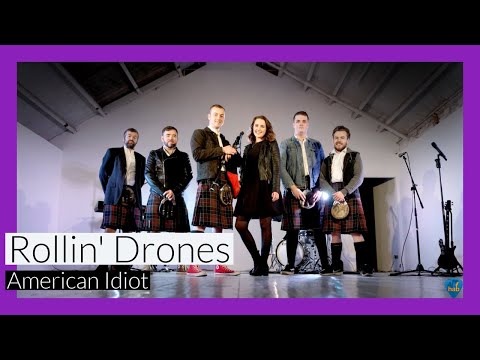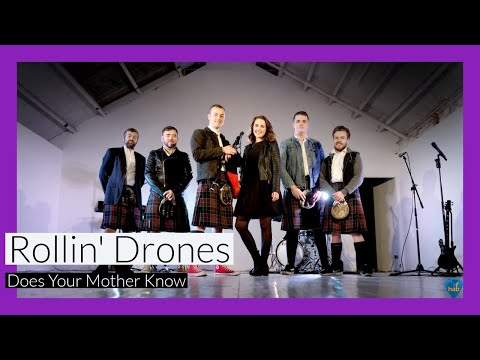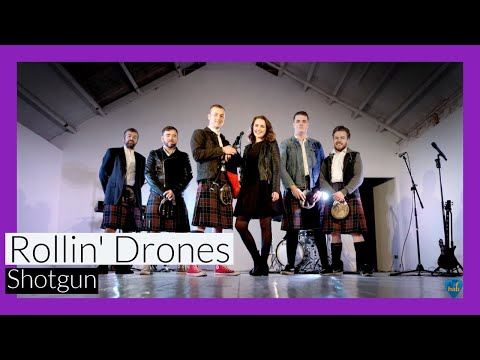 Overview
Tracks
Set List
Reviews
Line-Up
Performance Times
Booking Add-ons
Provided by the Act
Gallery
Overview
Rollin' Drones represent a completely unique, one of a kind wedding and function band. Taking great pop songs, throwing in some bagpipes and a huge dollop of personality and energy. This fabulous band is busy performing all over Scotland and increasingly, the rest of the UK.
If you've been looking for a band to entertain your guests at your wedding or party for some time you may have noticed something; a lot of the bands sound and look pretty much the same.  Sure there are differences in quality and talent, but essentially they're all copying a dozen or so hugely successful wedding bands.  Now there's absolutely nothing wrong with that. When the Beatles came out, every other band wanted to look and sound like them.  What's wrong with copying success? Nothing.
However, it's also likely that you'll want to put your own stamp on your event. You've probably attended lots yourself and chances are you've thought 'This is the third or even fourth time I've seen this band!  They're great, but what can I do to make sure my guests have a great time but equally, see and hear something they haven't come across before?'
The answer is, you hire the Rollin' Drones. You'll get all the songs you know and love performed brilliantly, but you'll also hear the songs performed in a way that is unique to the Rollin' Drones.
The band is made up of some very fine musicians indeed, including an internationally renowned piper, session musicians and multi instrumentalists. It's actually really hard to describe accurately what this band does and how they stand out from the crowd, so do yourself a favour and have a look at the band's promo videos - it shows you what we can't tell you.
The Rollin' Drones are a hugely versatile band, they can offer an additional piper, a 'bag-rock' set and much more. 
The Rollin' Drones also offer several daytime entertainment options, including a 2-piece keys + vocal set, a Mini Rollin' Drones option or a full pipe band! Chat with Gaye on 0800 612 3320 to arrange your personalised package!
Booking the Rollin' Drones couldn't be easier - you can get an instant quote and availability check just by filling in the quick enquiry form on our website. Do you have other bands in mind but these guys tickle your fancy? Simply add the Rollin' Drones to your shortlist and receive instant quotes and availability for all the bands you like the look of! Easy peasy!
Tracks
Update Required
To play the media you will need to either update your browser to a recent version or update your
Flash plugin
.
Set list
Uptown Funk - Bruno Mars
Sex On Fire - Kings Of Leon
Mr Brightside - The Killers
Human - The Killers
Marry You - Bruno Mars
Can't Stop The Feeling - JT
Valerie - Amy Winehouse
I Want You Back - Jackson 5
9-5 - Dolly Parton
Happy - Pharrell Williams
Ain't Nobody - Chaka Khan
Life With You - The Proclaimers
Thinking Out Loud - Ed Sheeran
Ain't It Fun - Paramore
Michael Jackson Medley penci
Shut Up & Dance - Walk The Moon
I Wanna Dance With Somebody - Whitney Houston
500 Miles - The Proclaimers
Dignity - Deacon Blue
Loch Lomond
Blame It On The Boogie - Jackson 5
Don't Stop Me Know - Queen
Boys of summer - Don Henley
Mustang Sally - The Commitments
Let's Stay Together - Al Green
Get Lucky - Daft Punk
Call me - Blondie
September Song - JP Cooper
Shape of You - Ed Sheeran
Galway Girl - Ed Sheeran
No place I'd rather be - Jess Glynn
Proud Mary - Tina Turner
Love Yourself - Justin Beiber
Jump - Van Halen
Hey Soul Sister - Train
Everywhere - Fleetwood Mac
Faith - George Michael
Many of Horror - Biffy Clyro
Folsom Prison Blues - Jonny Cash
Footloose - Kenny Loggins
You make my dreams come true - Hall and oats
Sweet Home Alabama - Lynard Skynard
The Scientist - Coldplay
Roar - Katie Perry
Caledonia - Dougie McLean
Mama Mia - Abba
American Idiot - Green Day
Call me maybe - Carly Rae Jepsen
Gay Gordon's
Canadian Barn Dance
Strip the Willow
Dashing White Sergeant
Crazy - Gnarls Barkley
Crazy in love - Beyoncé
Feel it still - Portugal. The Man
ABBA medley: Gimme, Gimme, Gimme/Lay your love on me/Mama Mia/Does your mother know/Voulez Vouz
Genie in a bottle - Christina Aguilerra
Britney Medley: Hit me baby one more time/oops I did it again/toxic
Man I feel like a woman - Shania Twain
Stevie Wonder Medley: Sir duke/I wish/superstition
Take on me - A-Ha
Umbrella - Rihanna 
Video Killed the radio star/power of love mash up
Yellow - Coldplay
Respect - Aretha Franklin
Are you gonna Be my girl - Jet
Don't stop - Fleetwood Mac
Don't stop believing - Journey
Great balls of fire - Elvia
Cest la vie - B*Witched
I believe in a thing called love - The Darkness
Little lion man - Mumford and Sons
Moves like jagger - Maroon 5
Paradise - George Esra
Play that funky music - Wild Cherry
Power of love - Huey Lewis and the News
Smells like teen spirit - Nirvana
Treasure - Bruno Mars
Walking on sunshine - Katrina and the Waves
You can go your own way - Fleetwood Mac
You got the love - Florence and the Machine
All night long - Lionel Ritchie
Bad romance - Lady Gaga
Chelsea Dagger - the Fratelli's 
Don't stop he music - Rihanna
Forget you - Cee lo green
Higher and higher - Jackie Wilson
Ho hey - the Lumineers
I don't feel like dancing - Scissor Sisters
I got a feeling - Black eyed Peas
Iris - Goo Goo Dolls
Killing in the name - Rage against the machine
Love machine - Girls Aloud
Love on top - Beyoncé
Maggie May - Rod Stewart
Price tag - Jessie J
Signed sealed delivered - Stevie Wonder
A little Respect - Erasure
Rolling in the deep - Adele
Seven nation army - White Stripes
Suspicious minds - Elvis
This is the life - Amy McDonald
Use somebody - Kings of Leon
Reviews
Rollin' Drones were absolutely fantastic at our wedding and we cannot recommend them more highly! Hireaband made the booking process so easy and answered any questions/queries we had really quickly and efficiently. All the guests absolutely loved the bagpipes and it was a great surprise. I was worried on the lead up to the wedding that the bagpipes might be too loud/overwhelming but I couldn't have been more wrong- the guy playing the pipes was AMAZING and added so much fun to the evening. We had a Scottish/Irish wedding and had booked Irish dancers (Siamsoir) to come on in the band's break for a 15 minute set- they liased before and worked so well together. Ryan and I had the BEST night and just want to say a huge thank you to the band. If you're thinking about booking them for your wedding or event then do it!! x
The band were amazing! Everyone at the wedding commented on how good they were! Thank you so much for a great night!!
The Rollin Drones were absolutely fantastic, our guests were asking how we found them and were also complimenting how good they were! Great to deal with and were perfect for our party - would highly recommend them!
Very smooth and easy process on booking. Ruth and I can't thank the band highly enough for there input in our special day. Very friendly group with a wide variety of music. We can't praise them highly enough they were awesome. People are still talking about them a week later and we wouldn't hesitate to recommend them to others who are thinking of booking them. Get it done, worth every penny!!
Rollin Drones were amazing! Exactly as expected and had the whole room up on the dance floor. Communication with the band was brilliant and they even learnt a new song just for us. Highly recommend the band and Hireaband.
The Rollin' Drones were fantastic!
Contact from both Hireaband and the band themselves was great. Very easy to deal with and a great performance was received!
The Rollin' Drones were absolutely fantastic. We couldn't fault a single thing. The band did a brilliant job at customising our first dance song for us. They brought high energy and a superb set list that kept our guests dancing all night. The dance floor was packed from start to finish with guests of all age ranges. The addition of the bag pipes was a great surprise for our guests and everyone loved the mix of modern songs and ceilidh dances. Their interaction with the crowd throughout was second to none.

Can't recommend the Rollin' Drones highly enough - absolute top quality! Thank you so much.

Booking through Hireaband was brilliant, very helpful when we had to change things due to Covid. The Rollin Drones were fantastic, great music and lovely people.
The Rollin Drones were absolutely fantastic from the planning of our wedding through to the actual day. So easy to work with and were very flexible to all our requests, also did a brilliant job learning our first dance song which they played perfectly.
Great entertainment throughout our night and a joy to have for our big day, would certainly recommend.
Thank you so much, Derek and Nicola

We cannot thank Rollin' Drones enough for the incredible performance at our wedding! From start to finish they had everyone dancing (it was full all night) and the Ceilidh section in the middle was a great extra and really got everyone involved and on their feet. The mix of music was fantastic and the added bonus of the bagpipes really elevated the evening and gave us the Scottish wedding experience we wanted.
Thank you so much for playing at our weddingm you were incredible. All of our guests absolutely loved the bagpipes, such a great surprise. The whole experience was just fantastic and everyone had the best time. You were all so accommodating with our requests and even created a dedicated playlist with all of our favourite songs for during the break. Not only that, you learnt our first dance song within a matter of weeks and it was perfect. You created a night we will never forget and it just topped off the best day ever. Thank you so much.
We had the most AMAZING evening! Thank you all so much for your time and effort! We just loved you and you really made our wedding!
Just to say I have loved dealing with Gaye from Hireaband and the Rollin Drones were amazing and such lovely people. We were so so happy with them. They really made our daughter's wedding so many many thanks!
Thank you so much for mkaing our day so memorable on Friday. You were everything we imagined and more and the dancefloor was so packed all night! Thank you, thank you, thank you.
The Rollin Drones were the most perfect wedding band to top off our incredible day.
Mike and the whole team were a joy to work with from the moment we chose them and everything was so seamless.
Their music with Scottish tweaks had everyone on the dance floor all night and we would have kept dancing long into the early hours if we could have done!!

Thank you so so much! You guys were truly awesome!
The Rolling Drones were absolutely fantastic and made our night at our wedding. They were truly a spectacular band and performed to a high standard. They sang specific song requests, had everyone enjoying themselves and were super entertainment. Would highly recommend this band to anyone looking for a great night. Special thanks to Mike for liasing with me about our big day.
Thank you so much for an outstanding performance at our wedding. Everyone commented on how good you all were. Would highly recommend you to anyone looking for a brilliant night of entertainment!
This is the 4th time I have booked the Rollin Drones and they did not disappoint! Their performance on the night was incredible, the bagpipes add an extra element that just keeps everyone on the floor dancing all night.
They also did some really great ceilidh tracks and fun variations which just made the night really special.
Heather's vocals are fantastic and the band are all really lovely, communication was fantastic and the set up on the night was really efficient. One of my friends did a performance and the band helped him get his guitar and mic all set up too which was so kind of them!

I would not hesitate to recommend this band, they are fantastic!

Thank you so much for performing at our wedding! We all had such a great time, everyone said how much they enjoyed the band. The Ceilidh (or, our very poor attempt at a Ceilidh!) really made our evening. I was really fussy when it came to choosing a band, we didn't want anything standard that we could see anywhere else, and The Rollin Drones really delivered that something special to our evening!
You guys were AWSOME on Saturday night !!! Thanks sooooooo much for helping to make it such a great night! We had masses of comments and feedback from the guests about how amazing the band were.
They were very flexible and so friendly both before and at the party. Mike phoned and spoke to me beforehand to organise everything and ask if we had any requests. They totally made the party - I can't recommend them more highly.

Thanks again to the Rollin' Drones, you were absolutely fantastic and you kept the dance floor jumping all night! Thanks again, we had the best time! ❤
Great service from start to finish. Everyone loved the Rollin Drones, great guys and a brilliant performance.
Thank you!
I just wanted to let you know that The Rollin Drones went down very well on Sunday and we are very happy with how well received they were, especially after such a great result.
Performance Times
8pm – 12am (with a 30-minute break)
Booking Add-ons
Late Finish (After Midnight)

Early Arrival
30-minute ceilidh set

Smaller Lineups Available

Daytime Lineups Available
Provided by the Act
PA System

Complimentary Unmanned DJ Service (when not performing)
Stage lighting

Public Liability Insurance & PAT Tested Equipment
Check availability and price for Rollin Drones
To find out if this act is available and what it would cost to hire them, please fill out the form.
To ensure the quote is as accurate as possible, remember to tell us the postcode or nearest town to your venue. Good Luck!