Keeper Lit
Keeper Lit apply their immense talent and experience to everything they do. From their top chart floor fillers to the 3 part harmonies in their classic Scottish and Irish hits, you can be sure it'll be a night to remember!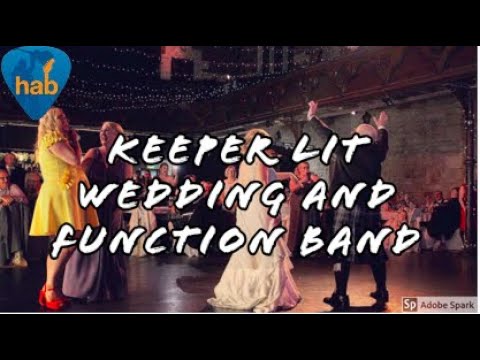 Overview
Tracks
Set List
Reviews
Line-Up
Performance Times
Booking Add-ons
Provided by the Act
Gallery
Overview
Keeper Lit apply their immense talent and experience to everything they do. From their top chart floor fillers to the 3 part harmonies in their classic Scottish and Irish hits, you can be sure it'll be a night to remember!
With their Scottish and Irish roots, Keeper Lit can add celtic flair to whatever they turn their hand to. With more than 280 songs on their current set list, these guys know it all and have a great deal of experience under their belts so they can expertly read the crowd and ensure your dancefloor is never empty. Each member of the band is a highly skilled and experienced musician with years in the music industry. Keeper Lit have performed at countless weddings, parties and corporate events so rest assured you are in safe hands!
Keeper Lit cover all the bases when it comes to a superbly talented wedding and function band. They are reliable and friendly bunch with a set list spanning the last 50 years played through state of the art equipment that enhances their already cracking sound!
We could go on and on about these guys but their audio and video speak for themselves, check them out!
Booking Keeper Lit could not be easier! You can get an instant quote and availability check just by filling in the quick enquiry form on our website. Do you have other bands in mind but these guys tickle your fancy? Simply add Keeper Lit to your shortlist and receive instant quotes and availability for all the bands you like the look of! Easy peasy!
Tracks
Update Required
To play the media you will need to either update your browser to a recent version or update your
Flash plugin
.
Set list
AVICII — WAKE ME UP
ABBA — MEDLEY
AEROSMITH — I DON'T WANNA MISS A THING
AL GREEN — LET'S STAY TOGETHER
AZTEC CAMERA — SOMEWHERE IN MY HEART
BAY CITY ROLLERS — SHANG-A-LANG
BEATLES — SAW HER STANDING THERE
BEATLES — I FEEL FINE
BEATLES — SOMETHING IN THE WAY SHE MOVES
BEN HAENOW — SOMETHING I NEED
BIFFY CLYRO — MANY OF HORROR
BILLY JOEL — JUST THE WAY YOU ARE
BILLY JOEL — YOU MAY BE RIGHT
BILLY JOEL — TELL HER ABOUT IT
BILLY IDOL — WHITE WEDDING
BILLY IDOL — REBEL YELL
BOB MARLEY — IS THIS LOVE
BON JOVI — YOU GIVE LOVE A BAD NAME
BON JOVI — THANK YOU FOR LOVING ME
BON JOVI — ALWAYS
BRYAN ADAMS — SUMMER OF 69
BRYAN ADAMS — EVERYTHING I DO
CARS — JUST WHAT I NEEDED
CURE — FRIDAY I'M IN LOVE
CHARLIE PRIDE — CRYSTAL CHANDELIERS
CHUCK BERRY — JOHNNY B. GOODE
COLDPLAY — YELLOW
COLDPLAY — A SKY FULL OF STARS
COLDPLAY — VIVA LA VIDA
COLDPLAY — FIX YOU
COLDPLAY — GOD PUT A SMILE UPON YOUR FACE
COLDPLAY — IN MY PLACE
COLDPLAY — THE SCIENTIST
COLDPLAY — LIFE IN TECHNICOLOR II
COLDPLAY — UP AND UP
CREEDENCE CLEARWATER — PROUD MARY
CREEDENCE CLEARWATER — HAVE YOU EVER SEEN THE RAIN
CROWDED HOUSE — BETTER BE HOM SOON
CROWDED HOUSE — FALL AT YOUR FEET
CROWDED HOUSE — WEATHER WITH YOU
CROWDED HOUSE — IT'S ONLY NATURAL
CROWDED HOUSE — DISTANT SUN
CROWDED HOUSE — FOUR SEASONS IN ONE DAY
CULT — SHE SELLS SANCTUARY
DAFT PUNK — GET LUCKY
DAVID BOWIE — STARMAN
DAVID GRAY — THE ONE I LOVE
DANDY WARHOLS — BOHEMIAN LIKE YOU
DAVE EDMUNDS — GIRLS TALK
DEACON BLUE — DIGNITY
DEACON BLUE — REAL GONE KID
DEAN MARTIN — LITTLE OLE WINE DRINKER ME
DEL AMITRI — LAST TO KNOW
DEEP BLUE SOMETHINGS — BREAKFAST AT TIFFANY'S
DIRE STRAITS — SULTANS OF SWING
DIRE STRAITS — ROMEO AND JULIET
DOCTOR AND THE MEDICS — SPIRIT IN THE SKY
DOOBIE BROTHERS — LONG TRAIN RUNNING
DOLLY PARTON — 9 TO 5
EAGLES — PEACEFUL EASY FEELING
EAGLES — LYIN' EYES
EAGLES — HOTEL CALIFORNIA
ED SHEERAN — CASTLE ON THE HILL
ED SHEERAN — PERFECT
ED SHEERAN — PHOTOGRAPH
ED SHEERAN — THINKING OUT LOUD
ED SHEERAN — TENERIFE SEA
ELVIS — SUSPICIOUS MINDS
ELVIS — THE WONDER OF YOU
ELVIS — FALLING IN LOVE WITH YOU
ELVIS — BURNING LOVE
EMBRACE — GRAVITY
ERASURE — A LTTLE RESPECT
ERIC CLAPTON — WONDERFUL TONIGHT
ELTON JOHN — YOUR SONG
FEELING — I LOVE IT WHEN YOU CALL
FLEETWOOD MAC — GO YOUR OWN WAY
FLEETWOOD MAC — DON'T STOP
FOSTER THE PEOPLE — PUMPED UP KICKS
FOO FIGHTERS — TIMES LIKE THESE
GEORGE EZRA — ALL MY LOVE
GOO GOO DOLLS — IRIS
FRANKIE VALLI — CAN'T TAKE MY EYES OFF OF YOU
GARY MOORE — WALKING BY MYSELF
GREENDAY — WHEN SEPTEMBER ENDS
HIGH FLYING BIRDS — IF I HAD A GUN
INXS — NEVER TEAR US APART
JACK JOHNSON — BETTER TOGETHER
JAGS — I GOT YOUR NUMBER
JAMES — LAID
JAMES — SIT DOWN
JAMES — JUST LIKE FRED ASTAIRE
JAMES ARTHUR — SAY YOU WON'T LET GO
JASON MRAZ — I'M YOURS
JASON MRAZ — I WONT GIVE UP
JOHN LEGEND — ALL OF ME
JOURNEY — DON'T STOP BELIEVIN'
JUSTIN BIEBER — FRIENDS
KAISER CHIEFS — I PREDICT A RIOT
KEANE — EVERYBODY'S CHANGING
KINKS — YOU REALLY GOT ME
KINGS OF LEON — SEX ON FIRE
KINGS OF LEON — USE SOMEBODY
KINGS OF LEON — MOLLY'S CHAMBERS
KINGS OF LEON — TEMPLE
KODALINE — THE ONE
KILLERS — HUMAN
KILLERS — MR BRIGHTSIDE
KILLERS — ALL THESE THINGS I'VE DONE
KILLERS — WHEN YOU WERE YOUNG
KILLERS — READ MY MIND
LA'S — THERE SHE GOES
LADY GAGA — POKER FACE
LABRINTH — BEANEATH YOUR BEAUTIFUL
LYNYRD SKYNYRD — SWEET HOME ALABAMA
LONESTAR — AMAZED
LIFEHOUSE — YOU AND ME
LUMINEERS — HO HEY
MAROON 5 — MOVES LIKE JAGGER
MAVERICS — DANCE THE NIGHT AWAY
MGMT — KIDS
MICHAEL JACKSON — DON'T STOP 'TIL YOU GET ENOUGH
MICHAEL JACKSON — SHAKE YOUR BODY (DOWN TO THE GROUND)
MICHAEL JACKSON — BLAME IT ON THE BOOGIE
MONKEYS — I'M A BELIEVER
MUNFORD AND SONS — I WILL WAIT
MUSE — STARLIGHT
NEIL DIAMOND — SWEET CAROLINE
OASIS — DON'T LOOK BACK IN ANGER
OASIS — CHAMPAGNE SUPERNOVA
OASIS — SONGBIRD
OASIS — SHE'S ELECTRIC
OCEAN COLOUR SCENE — THE DAY WE CAUGHT THE TRAIN
OCEAN COLOUR SCENE — THE CIRCLE
PAULO NUTINI — JENNY DONT BE HASTY
PAUL WELLER — YOU DO SOMETHING TO ME
PHIL COLLINS — GROOVY KIND OF LOVE
PINK FLOYD — COMFORTABLY NUMB
PINK FLOYD — ANOTHER BRICK IN THE WALL
POLICE — EVERY BREATH YOU TAKE
POLICE — MESSAGE IN A BOTTLE
PAUL SIMON — CALL ME AL
PAUL SIMON — MRS ROBINSON
PETER GABRIEL — SOLSBURY HILL
PRIMAL SCREAM — COUNTRY GIRL
PRIMAL SCREAM — ROCKS
PROCLAIMERS — 500 MILES
PROCLAIMERS — LIFE WITH YOU
QUEEN — CRAZY LITTLE THING CALLED LOVE
QUEEN — A KIND OF MAGIC
QUEEN — YOU'RE MY BEST FRIEND
QUEEN — I WANT TO BREAK FREE
QUEEN — TIE YOUR MOTHER DOWN
RAZORLIGHT — IN THE MORNING
REM — LOSING MY RELIGION
REM — THE ONE I LOVE
ROD STEWART — MAGGIE MAY
ROD STEWART — YOU'RE IN MY HEART
ROD STEWART — FOREVER YOUNG
RONAN KEATING — THIS I PROMISE YOU
RONAN KEATING — I HOPE YOU DANCE
ROBBIE WILLIAMS — LET ME ENTERTAIN YOU
ROBBIE WILLIAMS — ANGELS
ROLLING STONES — BROWN SUGAR
RUNRIG — LOCH LOMOND
SHANIA TWAIN — MAN I FEEL LIKE A WOMAN
SHANIA TWAIN — STILL THE ONE
SILENCERS — I CAN FEEL IT
SNOW PATROL — CHASING CARS
SNOW PATROL — YOU'RE ALL I HAVE
SIMPLE MINDS — DON'T YOU FORGET ABOUT ME
SIMPLE MINDS — SEE THE LIGHTS
SOUL ASYLUM — RUNAWAY TRAIN
STEPPENWOLF — BORN TO BE WILD
STING — FIELDS OF GOLD
STEREOPHONICS — DAKOTA
STEREOPHONICS — HAVE A NICE DAY
STEREOPHONICS — INDIAN SUMMER
STEREOPHONICS — WANNA GET LOST WITH YOU
STEALERS WHEEL — STUCK IN THE MIDDLE WITH YOU
SUPERTRAMP — GIVE A LITTLE BIT
TAKE THAT — SHINE
TAKE THAT — RULE THE WORLD
TEMPTATIONS — MY GIRL
THE REAL THING — YOU TO ME ARE EVERYTHING
THIN LIZZY — WHISKEY IN THE JAR
TOM PETTY — I WON'T BACK DOWN
TOM PETTY — FREE FALLING
TOM PETTY — RUNNING DOWN A DREAM
TONY CHRISTIE — AMARILLO
TRAIN — SOUL SISTER
TRAVIS — SING
TRAVIS — FLOWERS IN THE WINDOW
TRAVIS — WHY DOES IT ALWAYS RAIN ON ME
U2 — WITH OR WITHOUT YOU
U2 — ONE
VAN MORRISON — BROWN EYED GIRL
VAN MORRISON — BRIGHTSIDE OF THE ROAD
VAN MORRISON — HAVE I TOLD YOU LATELY
VAN MORRISON — INTO THE MYSTIC
WALK THE MOON — SHUT UP AND DANCE
WATERBOYS — WHOLE OF THE MOON
WATERBOYS — HOW LONG WILL I LOVE YOU
WEATUS — TEENAGE DIRTBAG
COUNTRY SONGS
WAGON WHEEL
HEAD OVER BOOTS
GODS PLAN
YOUR WEDDING DAY
DADDY DANCE WITH ME
I LOVED HER FIRST
DADDYS LITTLE GIRL
BUTTERFLY KISSES
RUBY DONT TAKE YOUR LOVE TO TOWN
THE GAMBLER
FOLSOM PRISON BLUES
COUNTRY ROADS
SEA OF HEARTBREAK
BLANKET ON THE GROUND
BOBBY MCGEE
LOVE ME TONIGHT
ASHES OF LOVE
SCOTTISH SONGS
SCOTTISH CEILIDH DANCES
CALEDONIA
FLOWER OF SCOTLAND
I BELONG TO GLASGOW
GLEN COE
JAMIE RAEBURN
YE JACOBITES
LOVELY STORNAWAY
THE MERMAID
STRANGE BOAT
BANG ON THE EAR
MULL OF KINTYRE
LASS OF GLENSHEE
RAGGLE TAGGLE GYPSY
WHEN YOU GO AWAY
MINGULAY SONG
DARK ISLAND
IRISH SONGS
GALWAY GIRL
ILL TELL ME MA
IRISH ROVER
HILLS OF DONEGAL
PRETTY LITTLE GIRL FROM OMAGH
7 DRUNKEN NIGHTS
JOYCE COUNTRY CEILIDH BAND
STAR OF THE COUNTY DOWN
CRAZY WORLD
WHISKY IN THE JAR
MURSHIN DURKIN MEDLEY
USED TO LOVE HER
DIRTY OL TOWN
HOME TO MY DONEGAL
MY DONEGAL SHORE
SPANCIL HILL
SLIEVNAMON
GALWAY SHAWL
OLD FLAMES
BLACK VELVET BAND
WILD ROVER
RED ROSE CAFE
FISHERMANS BLUES
AFTER ALL THESE YEARS
NANCY SPAIN
HOME OF DONEGAL
LOVELY LEITRIM
RAINY NIGHT IN SOHO
CITY OF CHICAGO
RAGLAN ROAD
CLARE ISLAND
BOYS OF KILLYBEGS
THE VOYAGE
ORDINARY MAN
FOUR COUNTRY ROADS
FAIRYTALE OF NEW YORK
STREETS OF NEW YORK
COUNTY OF ARMAGH
GREEN GLENS OF ANTRIM
BOSTON ROSE
N 17
FORTY SHADES OF GREEN
MCALPINES FUSILEERS
SWEET 16
BUNCH OF THYME
DONEGAL DANNY
Reviews
Gerry and the boys from Keeper Lit were absolutely brilliant! We booked them after we heard them at a clients wedding and they didn't disappoint second time round. So good at reading the room, interacting with the guests and keeping the dance floor packed! We had such a laugh with the guys and couldn't recommend them enough! A good selection of songs and eras and just all round lovely guys!!

Keeper Lit were phenomenal, all the guests raved about the bands quality. They kept the tempo very well and the dance floor was never empty, they even gave myself (the groom) a special finale as they handed me the mic for my 4 minutes of fame belting out Mr Brightside which I absolutely loved.
Hi Guys! One of the bridesmaids here from last nights wedding at Cottiers. Just want to say another HUGE thank you for the amazing music you played last night! It was one of the highlights of the wedding and everyone there were saying nothing but compliments about you guys. Thank you for making my big sister and her husband's wedding day even more amazing!
Just wanted to drop you a wee email to say thanks so much for playing at our wedding on Saturday. You guys were absolutely spectacular and people keep saying to us how great the band was - many have said its the best live music they've ever seen at a wedding. What a brilliant ending to a fantastic day!
I just really want to say thank you for the fantastic service and band you provided for Katherine and I's Wedding. Keeper Lit were incredible and everything we could have dreamed of. They really did make our day so perfect. I've had so many of the guests say how amazing they were. Thank you so much!

I just wanted to say a massive thank you to everyone at Hire a Band who helped us get the band sorted for our wedding, particularly Emma who kept me calm and gave me plenty advice to help cope with the stress and nerves on the run up to the wedding!
I also wanted to share my thanks and absolute delight for the band. We had Keeper Lit at Cottiers Theatre on the 29th September and they were incredible!
Not only did they learn our first dance, and father daughter dance but they also learned my new husbands favourite song as a surprise for us and it made our night! It was a complete surprise, the guys from Keeper Lit were outstanding and went above and beyond the call of duty! They had everyone on the dance floor, played a great mix and kept the guests well entertained. It couldn't have been a better night.
I cannot recommend these guys enough and I really hope that you pass on our thank you and appreciation.
Thank you so much again, Keeper Lit made our night one to remember, it was so much fun!

We had a great night and everyone kept saying how good the band were. Thanks for ending our night on a high.
Massive thank you to Gerry and all of the guys for playing at our wedding last night. Keeper Lit were outstanding and the dance floor was packed all night long. So many people complimented the set you played. Thank you for making our evening such a memorable and special occasion guys. Can't recommend Keeper Lit highly enough.
If Keeper Lit are available on your wedding date...
BOOK THEM!!..........Top quality entertainment!

Without doubt Keeper Lit are the best band we have on our books. I would recommend them for any occasion!
Gerry thanks again for a fantastic nights entertainment. Your choice of songs were spot on! There are some tired legs in the office today. We will definitely be hiring you in the future.
Hi Gerry, Can I just say a big thank you to you and your band mates for the music that you played at Karen (my daughter) and David's wedding reception on Saturday. It was first class. I first heard you as a 2 piece at a reception in the City Halls over a year ago and again as a 4 piece in O'Neills in the Merchant City and was greatly impressed. I am glad that Karen and David agreed with my opinion that Keeper Lit were the best band for the job and that was obvious with a full dance floor for every song. Also, the framed list of music played was a great touch and Karen and David really appreciated that. All the best for the future and I hope to hear you play again very soon!
I don't ever write reviews but felt this deserved me taking the time to write a review. Thank you for making my wedding day. An outstanding set and the dance floor was full from start to finish. Everyone commented on the band and I would have no hesitation in recommending Keeper Lit for any event, the feedback from the guests was that it was the best wedding band they have seen. Catered from every age and took the time to learn our request for our first song, thanks again and hope to see you soon in Merchant City.
Thanks Gerry and many thanks again for playing. It was a great night with the dance floor full and lots of people complimenting us on what a great band. Hope to hear you guys playing again soon!
Just watching the wedding video. You guys were amazing. Unbelievable band!
I would just like to thank you for the wonderful music you played at my daughter Jadas wedding. Everyone had a wonderful time, I don't think the dance floor was ever empty. You all made our night. Thanks once again!!
Performance Times
8pm – 12am (with a 30-minute break)
Provided by the Act
PA System

Complimentary Unmanned DJ Service (when not performing)
Stage lighting

Public Liability Insurance & PAT Tested Equipment
Check availability and price for Keeper Lit
To find out if this act is available and what it would cost to hire them, please fill out the form.
To ensure the quote is as accurate as possible, remember to tell us the postcode or nearest town to your venue. Good Luck!